Red Lion ProducTVity Station (PTV)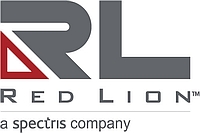 The only ready-to-deploy productivity solution that pulls data directly from your process, and leverages today's LCD TVs for stunning productivity displays.
All continuous improvement initiatives require key performance indicators (KPI) and or Andon displays messages. To improve, you need to know where you're at!
KPIs are necessary to motivate workers, justify change, and to show improvement.
Andon displays show why you're down, so that you can fix issues quickly, thereby reducing downtime.
The Red Lion Controls ProducTVity™ Station main features -
Ready to Deploy Plant Floor Visualization System
Creates Hi-Definition Key-Performance Indicator and Andon Message Boards
720P DVI Output Supports 720 or 1080 TVs with DVI or HDMI Interfaces
300+ Communications Drivers for Communicating Directly with PLCs, Drives, Etc.
Supports up to 16 CS-Series Modules to Accept Digital and Analog Signals
Built-In Webserver Allows Remote View or Control from any Internet Connected PC
Provides Email and SMS Text Message Alerts
Includes 2GB Compactflash® Card for Recording KPIs and Andon Events
Syncs Data Logs to FTP Servers And Microsoft SQL Server®
32-Bit Floating Point Math Allows Creation of Virtually any Key Performance Indicator
Includes HDMI Cable And HDMI/DVI Adapter to Support any PC or Monitor
Mouse over the above images or click to zoom in.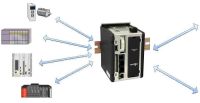 Connect your process equipment and have your data displayed on the production line.
Note: TV's are not included with the PTV.
Download the PTV demo database by using this link.
Downloads