The Rechner 26 capacitive sensors are suitable for level control of most different products. They are used in the Semiconductor Industry, Chemical Industry and in the Food Industry. Therefore these sensors are available with different process connections, like 1", M22, Triclamp, with F30 fitting and with modified body sizes for standard pipe sizes. There are models for DC supplies and for 20-250Vac/dc.
To complete the Rechner 26 capacitive sensor range, there are models with ATEX certification for use in areas with danger of explosion, dust zone 20 or gas zone 1. The versions for ambient temperatures of +100C are capable of CIP (cleaning in process) up to 121C.
If you are having to constantly adjust your existing capacitive sensors, then use the Rechner High Performance capacitive sensors.
Can your capactive sensors handle this amount of build up?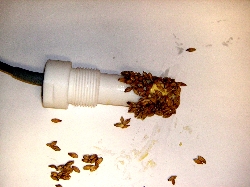 Rechner KAS-26 covered with product.
Even with this amount of build up, the output will still be OFF !!
New development.

The 26 series from RECHNER was originally designed to cope with the problems of very adhesive products. It turns out that these sensors have excellent characteristics for general use in level control. Typically they overcome the problems caused by products sticking to the sensor and the need for continual re-adjustment.
It is often a real challenge for the user to achieve good level control in large silos or in some containers with difficult access. A direct adjustment of a sensor in the container is often not possible. Reasons can be that the access is dangerous for human beings or the container is too high or possibly space is extremely limited.
For these situations RECHNER-Sensors now offer capacitive sensors with remote adjustment. The adjustment is made using an additional wire on the connection cable. Rechner's well-tried and practically self-explanatory EasyTeach technology has been adopted for this series. The sensors current measuring state is reflected at the output for an easy and optimum integration into the users SPS.
Like the rest of the 26 family they are suitable for use in both wet and dry areas. They are ideal for use in industries such as the chemical industry or food processing.
Ask for ETW (ETW = EasyTeach by wire) for more convenience at your application.
Please note that we have listed only a few of the popular models of this range. If you see something in the Rechner 26 series capacitive sensor catalogue which is more suitable for your application, please call us.