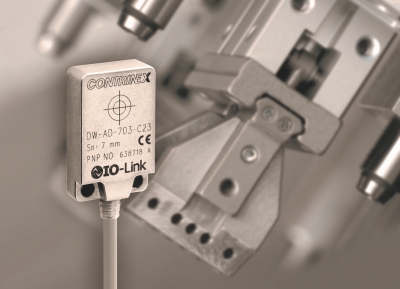 The C23 all stainless steel EXTREME sensors offer the advantage of Factor 1 same long sensing distance on steel and aluminium. Compared with similar sensors, they are distinguished not only by their IO-Link interface but also by better quality, a longer service life, greater resilience and, last but not least, by their excellent price-performance ratio.
With this sensor's embeddable all-metal stainless steel housing even the toughest applications are not an issue. Shock, vibration or aggressive chemicals cannot harm this extremely compact sensor, thanks to its stainless steel housing and Condet technology.
ASIC technology guarantees consistently long operating distances, quick installation and excellent temperature compensation. In addition, it also contributes to vibration resistance, thus ensuring an exceptionally long service life for the sensor.
The IO-Link interface offers the user access to various sensor parameters and diagnostic feedback data options. For example, it is possible to switch between NO and NC operation or to program an ON or OFF delay and even monitor the sensing point while in use.
Two drilled holes allow the C23 Series 700 sensors to be installed easily from the front.
Typical areas of applications for the fastest sensor in its class include grippers, clamping devices, welding assembly fixtures and gantry robots.
Advantages at a glance
Extremely robust, small and slim stainless steel housing (20 x 32 x 8 mm³)
Factor 1 on steel and aluminium
Long operating distance: 7 mm
IO-Link
Enclosure rating IP68/69K
Embeddable
Connection via PUR cable or S8 connector
UL certified (USA + Canada)