Phoenix Contact mGuard Secure Cloud for remote maintenance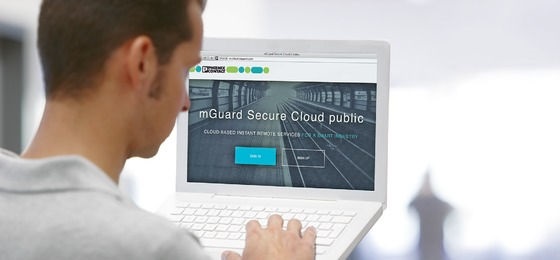 Easy
The Phoenix Contact mGuard Secure Cloud public offers a turnkey complete VPN solution for companies that build machines and manufacture systems. Service personnel connect quickly and securely to machines, industrial PCs, and controllers via a simple web interface. In addition, secure remote maintenance can be performed at any location and any time without requiring specialist IT knowledge.
Secure
The Cloud, which is based on the mGuard industry standard, securely connects service personnel and remote maintenance locations via the Internet. The Virtual Private Networks (VPNs) used for this are based on the proven IPsec security protocol, ensuring the confidentiality, authenticity, and integrity of all information and data transmitted between all devices connected via the mGuard Secure Cloud. Furthermore, the mGuard Secure Cloud is operated in a high-availability computer center in Germany in accordance with the most stringent data protection standards.
Reliable
In order to stay competitive in the global market, companies must be able to handle increasing pressures in terms of innovation and cost. Particularly for small and medium-sized companies, it is practically impossible to run an efficient in-house operation with comparable infrastructure at a reasonable cost. The mGuard Secure Cloud therefore provides companies with a reliable VPN infrastructure via the Internet as a service that is tailored to their needs.
Overview of the functional components of the mGuard Secure Cloud (click for larger image):

Basic Edition
Premium Edition*
Price
Free
On request
Runtime
12 months
12 months
Number of users
Unlimited
Unlimited
Number of machines
Unlimited
Unlimited
Number of simultaneous service connections
1
3
Transfer volume per service connection in GB/month
2
2 (6 in total)
Hotline
E-mail
Phone, e-mail
Guaranteed bandwidth per service connection
None
1 Mbps
Guaranteed annual availability
None
98%
Additionally bookable options (price on request)
-
Premium Seat Package
1 additional simultaneous service connection
including 2 GB/month transfer volume
* Also available as a 30-day trial version (mGuard Secure Cloud public Evaluation Edition).
Phoenix Contact mGuard Secure Cloud public.
You can now try mGuard Secure Cloud public for free with no obligation. Please call to arange your trial.