Rechner i-Level measurement probes
The Rechner i-Level capacitive level probe for analogue level measurement with 2 additional switching points. The switching points can be placed inside or outside of the analogue measuring range.
This rod probe with integrated evaluation electronics is based on Rechner's patented 3-electrode measuring principle.
The measurement is made between the measuring electrode in the probe and the metal container wall (or additional electrode).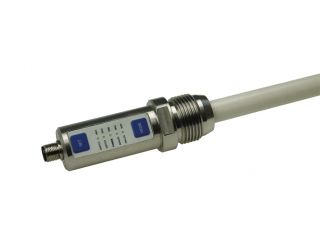 Advantages:
Analogue measuring range user selectable within the analogue measuring area.
2 additional switching points which can be set at any place within or outside of the analogue area. With intelligent PNP /NPN recognition, normally open or normally closed function programmable.
Analogue outputs available are 0...10 V, 4...20 mA or 0...20 mA
Supply voltage 18...30 V DC.
EasyTeach Function.
Variants with EasyTeach by wire (ETW) or CANBus interface are available on request.
Units also available with fixed programming of analogue range and switching points: "Mount and Go". (On request).
Electronic lock - prevents undesired changes of the programmed adjustment.
Housing materials:
The applied housing materials are:
Process connection:
1", stainless steel VA No. 1.4305 or 1.4404 (FDA conformity)
Suitable for mounting in hygienic, metallic sealing process adapter (see our accessories).
Probe:
Standard is GFK (glassfibre reinforced plastics)
On request other plastics are possible, for instance,
PE (Polyethylene)
PEEK (Polyetheretherketone) FDA 21 CFR 177.2415
PTFE (Polytetrafluorethylene) FDA 21 CFR 177.1550
PVC (Polyvinylchloride)
PVDF (Polyvinylidenfluoride) FDA 21 CFR 177.2510
Downloads