Safe & Secure - complete machine protection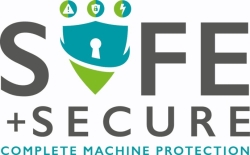 The 'Safe and Secure' awareness campaign by Phoenix Contact is designed to highlight three key areas of human and/or natural interaction, that creates a threat to a process or machine.
The areas that the 'Safe and Secure' campaign examines are:
Machine safety
Phoenix Contact makes safety easy. From conventional safety relays to comprehensive safety controllers. All safety are easy to install and configure. Functional safety means for you: reliable protection for people and machinery.
For more information visit Safety products from Phoenix Contact.


Surge protection
High-frequency, low-energy interference can be smoothed and eliminated using intererence filters. Lightning and surge protective devices provide protection against transient and high-energy voltage peaks.


Cyber attack and network protection.
Protect your system against unauthorized access by people and malware. The Phoenix Contact mGuard products protect your system networks with a powerful, flexible and fast firewall. In addition, the optional VPN function enables secure connections over the Internet to remote sites or machines.
For more information visit Cyber Security - routers and firewalls.