Sick DBS50 shaft encoders
Product description
The DBS50 Core incremental encoder features impressively high mechanical flexibility, excellent technical properties, and a number of variations.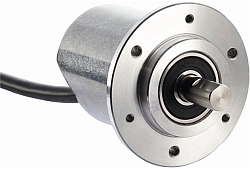 The DBS50E has a face mount flange with 50 mm diameter and a solid shaft with 8 mm diameter. The housing diameter is extremely compact at 37 mm and thus saves valuable space. The face mount flange offers 2 different mounting hole patterns and a servo groove for mounting with servo clamps. The encoder has compact dimensions and a universal cable outlet that allows for cables to run in an axial or radial direction. The DBS50 Core incremental encoder is fully compatible with the DDS50E incremental encoder.
At a glance
Connection with universal cable outlet
Face mount flange with 8 mm solid shaft
Face mount flange with 2 mounting hole patterns and servo groove
Compact housing diameter of 37 mm with compact construction depth, flange diameter 50 mm
Various electrical interfaces: TTL/RS-422, HTL/Push Pull and Open Collector NPN
Number of lines from 10 to 2,500 possible
Temperature range: –20 °C... +85 °C
Enclosure rating: IP 65
Your benefits
The universal cable outlet allows for use in tight spaces and for flexible cabling
Face mount flange with various mounting hole patterns for easy device replacement without adapting the application
Face mount flange with servo groove makes mounting with servo clamps possible
The high flexibility of the mechanical interface of the encoder and the available accessories allow for the use of a single design in many applications
The compact housing diameter saves valuable space
Long-term and reliable operation thanks to a high enclosure rating, temperature resistance and bearing lifetime
Coming soon. Please contact us if you require a part from the Sick DBS50 shaft encoder product range.